Excellent job carried out by Alan in our house today , We would certainly recommend Conway Cleaning as a reliable , professional and efficient Company.
Thank you.
Excellent job carried out by Alan in our house today , We would certainly recommend Conway Cleaning as a reliable , professional and efficient Company.
Thank you.
Outstanding
Had our hall cleaned today superb result on time .efficient and very professional.
Top notch couldn't be happier
Pauldevonport11@gmail.com
Splendid job!
After the mess of having the kitchen section
of my thru' living room redesigned I despaired
of the fitted carpet ever recovering! However
one call to Conway and they have performed
their usual magic! Thank you so much!
Fantastic
Extremely happy! Everything was explained to me and the results were fantastic. I will be calling Conway Cleaning next time too.
Kindness and professionalism
Greg cleaned my daughters bedroom carpet today. He did an excellent job, leaving the previously dirty carpet looking like new.
My husband is very sick with terminal cancer. Greg was so kind and lovely to him. It was touching to see how much he cared. In the end he refused my payment.
What a lovely lovely man who brought a little light into a dark situation.
Thank you Greg
Oven clean
Fantastic job done today by Greg. Brilliant. Would recommend any time. Many thanks.
Fantastic service
I put up a post on social media to see who people would recommend and contacted everyone on that list. Conway were the first to reply and quoted based on my requirements every quickly and have plenty of advice on what to expect. They completely stood out above the other recommendations for customer service , fair pricing but clarify of what level of service with no hidden extras . I have to say the standard of cleaning was exceptional and by far the best we have ever used for cleaning , especially at the end of tenancy and our letting agent even commented on the cleanliness of the carpets . More than happy to recommend them like they were to me. Far exceeding our expectation and worthy of their reputation . 5 Star service. Thank you
Excellent service would definitely use the company again
Very pleased customer
We had our carpets cleaned in our new home before our contents arrive.
Extremely seamless and thorough service delivered by this local company. Love to support local businesses especially during these difficult times.
I've also booked an oven clean in a few weeks.
Excellent service!
Thank you to Liz who couldn't have been more helpful in organising our cleaning work and Alan, who was very professional and did a fantastic job on the carpets and curtains.
Have just had our carpets cleaned by Alan. They have come up beautifully and we found Alan to be very efficient and helpful. Would most certainly use Conway Cleaning again .
Had this company in to clean two very dirty ovens . I was a little nervous as have had a bad experience with another company.
The result is super clean , the workman was polite and tidy , and i would highly recommend them
Range cooker clean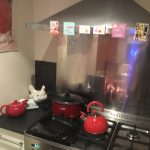 Greg did a very good job of cleaning our range. Emulsion paint was removed and surface recreated. The hobs and dual ovens were expertly refurbished.The estimate was as agreed and Greg left the premises very tidy. I would highly recommend.
Excellent service
We have used a few local carpet cleaning companies and then discovered Conway Cleaning. Greg and his team are extremely courteous, professional and a pleasure to deal with......if only we`d discovered Conway Cleaning years ago
Excellent Cleaning Company
Excellent cleaning company and a reliable service. A friendly smile always on hand. Always use them
Trust worthy & efficient
Greg cleaned our stairs and dinning chairs. He also cleaned my dads carpets & curtains. Done an amazing job!
A friendly & reliable guy, with experience & knowledge to get the job done well!
Highly recommend him!
Professional and extremely friendly
We've used Conway Cleaning for many years and have always had fantastic results. Timely, polite and very much trusted. My partner enjoys red wine and so does my carpet occasionally!! Carpets always look fantastic. Would recommend to friends and family.
Fantastic job, highly recommend!
We had Conway clean and scotch guard our large sofa and lounge carpet. Arrived when they said, very polite, efficient and impressed with the results!
Wouldn't hesitate to use again.
Excellent friendly trustworthy service
Excellent service, extremely reasonable and wouldn't hesitate to recommend to anyone. Will definitely be using again in the future.
Great Job!
Thanks for sorting out the cream rug and stair carpet...they look so much better now! You've done a great job.
Very Professional
The service is very professional and the carpets look great, thank you.
A Very Good Job
Always does a very good job and tenants always happy with the service given.